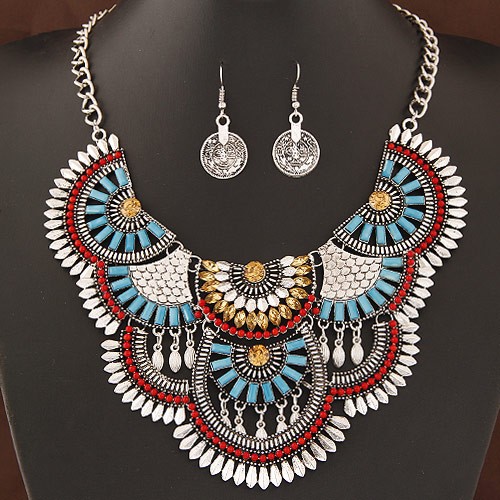 The Power of Jewelry 
Fashion Jewelry has the ability to spruce up any dull outfit, add oomph to a plain formal dress or positively complement a heavy ensemble. Jewelry made from gold, silver, platinum, studded with precious stones, baked out of clay – we love them all.
Options are Plenty
When other trends go out of fashion every few months, fashion jewelry stays stylish year after year. And there is so much variety to choose from.
Precious Metals
Gold jewelry rules the roost among precious metals. You could stock up on gold as part of an investment option, or simply, to preserve the traditional pieces handed down through the family. Gold jewelry always had a timeless appeal.
Silver jewelry is affordable and has a higher style factor associated with it. Silver rings, earrings, bracelets, chains and anklets are more popular among youngsters.
Jewelry made from platinum has a stamp of purity and rarity, and is usually associated with opulent weddings and functions.
Gemstones
Diamonds are really forever; the girl's best friend still remains in the top lot to add glamour to a woman's attire.
Rubies, emeralds, pearls and corals, when studded in jewelry can make you look breathtakingly beautiful.
Traditional Jewelry
Kundan jewelry was first worn by the royals from the bygone Mugal era. It has stood the test of time due to its versatility in pairing with traditional and Indo-western looks.
Temple jewelry is usually made from gold or silver and has images of Gods and Goddesses imprinted in the designs. These ornaments give you a timeless and classy look.
Tribal Jewelry
Made from clay, wood, metals or shells, tribal jewelry accessorizes you to add a funky element to your look. Highly popular among the youngsters, these ornaments can easily be picked up from the local sellers during your favorite beach holiday.
Costume Jewelry
Also known as the real 'fashion jewelry', these pieces are pocket-friendly and can be worn by women of all age groups. These are picked to match the outfits worn, and can really amp up your style. The accessories in this category are easily available for purchase from neighbourhood stores or online shops, and are highly popular.
Tech-Savvy Jewelry
Tech-loving fashionistas also have a myriad of jewelry options available today. Smart and sleek rings and bracelets that have sensors to track activities are a craze among the wealthy youth.
No More Excuses to Stock Up
A good collection of fashion jewelry in hand is priceless like that inimitable black dress in your wardrobe. The way you accessorize portrays your sense of style and personality.
It is wise to pick the right jewelry that suits your attire and mood. Experimenting with jewelry can help to bring out the best in an outfit and identify your own style statement.
Adding bolder jewelry or statement pieces to your collection, mixing and matching pieces, playing with neon colored jewelry are all creating a buzz in the fashion industry. So, it's about time you spruce up your glam quotient today!