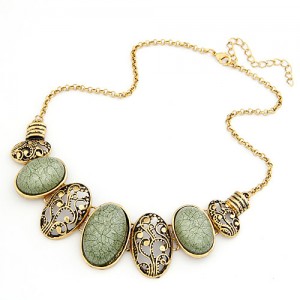 Jewelry has always been the best friend of all women folks whether she is a young girl, a sophisticated lady or an elderly woman. They naturally deem decking up with necklaces; bangles and ear studs etc that help them to enhance their beauty and make them look complete. You will hardly find any woman who doesn't love decking up with fashion jewelry pieces.
Are you keeping yourself updated with the current trends?
Are you the kind of person who always keeps up with the latest fashion jewelry trends? You should be! A fashionable, up-to-date jewelry item can change your entire appearance and make you look more beautiful and sensuous. Your overall hotness quotient increases and you become the center of attraction in every place.
Their popularity is extremely high in the current market
Those days are gone when gold jewelry used to be the only fashion element. Today costume jewelries are regarded as the latest vogue because they are available in various shapes, designs, color combinations and materials. Their popularity level is evident from the fact that you will find every woman in the streets, offices, parties or any other place wearing the latest fashion jewelry.
Have you made the correct choice?
Picking the right items is very essential or else you will look ugly and horrible. It is always suggested to purchase only those products that are compatible with your personality and matches your fashion sense. Why go with bold pieces when you are not comfortable in it? Always choose the one that suits you the best both in terms of the budget as well as the comfort level.
Why fashion jewelry is so popular among the contemporary women?
Most of them are budget-friendly and affordable except for the gold and diamonds.
When seen with naked eyes it is difficult to differentiate their authenticity.
These are perfect for all kinds of parties and outings.
Since they are available in different metals and components they can also be customized according to your preferences.
They are comfortable to wear all day long due to their light weight.
These are some of the main reasons for their immense popularity in the market today.
Are you making the right style statement?
Majority of us commit the mistake of decking ourselves with all kinds of jewelry pieces. Why should you embellish yourself with danglers, heavy neck pieces, fancy rings, loops etc all one at a time? This will definitely not make you look good or attractive. In fact you will appear extremely repelling an ugly. Exhibit with the correct and appropriate jewelry pieces and be the role model.
Fashion jewelry has become a must-have for every beautiful woman
A woman's wardrobe seems to be incomplete without graceful ear studs, necklaces and rings. Gold and other precious stones are becoming very expensive and thereby an impossible purchase. This is where the fashion jewelry has popped in and has been ever since doing amazing business. Have you started your fashion statement with the latest trends yet?