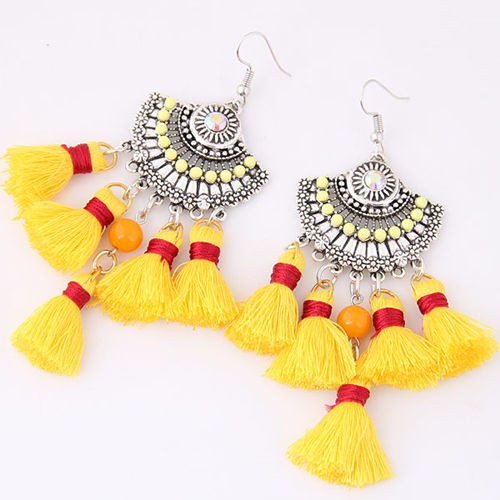 As we welcome 2019, it is time we look at some of the fashion prospects that are likely going to be seen. While some of these trends are just like the new kids in the blocks, others are making outstanding comebacks that can hardly be ignored by any fashionista that likes adorning high fashion jewelry.
Take your time to check out the following high fashion jewelry styles for classy women in 2019:
In the previous years, many fashion-conscious women have shifted towards the use of colored gems. However, 2019 is expected to usher in the use of mixed gems than ever before. The combination of diamonds, emeralds and other beautiful gemstones around jewelry will excite many individuals. Whether the designs and colors of these gemstones are matching or complementing, mixed gems are something we are looking forward to seeing more often in the coming years.
As many jewelry lovers are becoming more informed about these fashion pieces, their tastes are improving. Hence, it is becoming increasingly difficult to find a piece of ready-made jewelry that fits perfectly into their tastes. Resultantly, we are going to experience an increase in the need for bespoke jewelry designs. Such bespoke designs allow the customers to have a say in the design of their jewelry while adding personal touches to it. Although this fashion prospect may not become so rampant because of the cost, women with high tastes of jewelry are expected to embrace this style in 2019.
A mixture of different pieces with statement charms
Charms that are emphasized with bold and gold designs are on the rise already, and they are one of the most fancied fashion jewelry styles for women in 2019. Since they can contain all sorts of gems and be paired with various types of clothing, there is nothing stopping high-class women from rocking bold jewelry in the next few years. This high fashion style can be used on different pieces of jewelry; so don't be surprised when you see statement charms on necklaces, bracelets, earrings and other pieces of jewelry. Statement charms will surely make women with high jewelry tastes stand out among their equals. So start finding and buying some fashion pieces with statement charms now to follow the latest fashion jewelry trend of 2019.
Gone are the days when a minimal amount of jewelry is the in-thing; now it is time to welcome layering and stacking of pieces of jewelry especially for fashion costume jewelry. The opulence of jewelry is likely going to be one of the most coveted fashion trends of the year. We have already seen a glimpse of this style in 2018, but 2019 is bound to make it become an en vogue high fashion jewelry style for women. Expect to see more women adorning stacked bangles, multiple bracelets, several necklaces, massive beads, and multiple rings at once.
Models on the runways have already shown us how these 2019 high fashion jewelry styles of women can look when worn properly. Therefore, it is only left for every woman to pick the right fashion pieces that will accentuate their looks.