If you are a fashion-conscious individual, you must have been looking forward to seeing the trendiest and most exciting statement necklaces for 2019. The runways have stirred our curiosities as lots of high fashion urban trends for statement necklaces have been displayed in Milan, Paris, London, New York and other places this year.
Therefore, what are the 2019 high fashion urban styles for statement necklaces that you should not miss? Look at these 6 styles you should not miss.
1.    Coin-on-coin necklaces
Although coin necklaces are not new trends, coin-on-coin necklaces are relatively new and trendy at this moment. This high fashion urban trend involves piling on several pieces of coins on each other to form a fashionable piece of necklace. While there are variants of this style, you can choose this fashion style to make a bold statement about your love for statement necklaces.
2.    Vintage necklaces
In 2019, we are seeing lots of designers and brands collecting vintage pieces to make vintage necklaces, and lots of young women are embracing this trend already. These could come in form gold reminiscent of several decades ago or vintage chokers. Whether signed or unsigned vintage pieces, the majority of these pieces are top-of-the-range statement necklaces and this factor increases their appeal. As astonishing as this style, it is not commonly available for everyone. Therefore, you don't want to miss out on such a unique yet trendy style.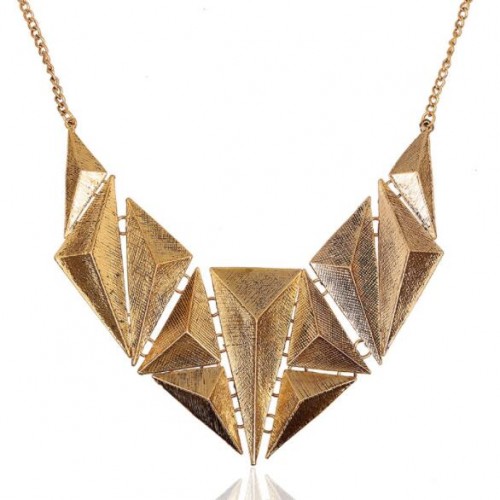 3.    Chain-link necklaces
In 2019, if you want bold appearance, you should never miss out on large chain necklaces. These exaggerated pieces come in different designs such as choker style and diamond-layered chain-link necklaces. Also, you could choose to style them alone or layer them with pendants of your choice.
4.    Open-cuff necklace
Without a doubt, chokers are fashionable statement necklaces, but they already have a lovelier and trendier sister known as an open-cuff necklace. This high fashion urban style has been used by lots of models on the runways as well as many other fashion-conscious ladies. While there are colorful open-cuff necklaces, we also have neutral ones. Don't miss out on this trendy style for statement necklaces.
5.    Messy layered necklaces
This style is a sophisticated version of the layered necklaces. It involves the use of several mismatched necklace styles. With this style, you can mix necklaces with rare stones, gemstones, celestial motifs, medallions or floral motifs and still look amazingly beautiful and stylish. Also, several styles and sizes of pendants and necklaces can be combined to have messy layered necklaces.
6.    Seashell necklaces
Last but not least for 2019 trendy statement necklace styles is the seashell necklace. This is another style that has been in existence for a long time but is evolving this year. This year has ushered in several deluxe seashell necklaces with eye-catching cockle shells, cowries, tulip shells, pukka shell, and several other materials.
Most of these statement necklace styles are great for a wide range of events or parties that you may want to attend as the year progresses. So, join the trends and showcase the style that you have got.