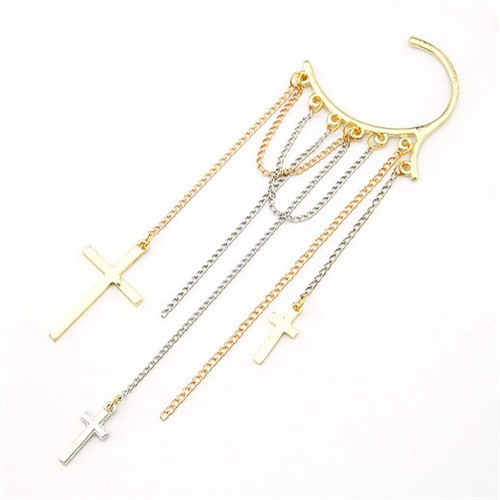 Earrings are probably one of the earliest signs of liberty of expression.  They have been used by both men and women since hundreds of years. In earlier times, wearing earrings had a specific meaning for different groups and communities.  They were worn as tradition in a number of tribes as this distinguished the members of the tribe from other people.
In countries like India, it is common tradition to pierce an infant's ear a few months after his birth. Earrings have played a big part in distinguishing Indian royalty from common people. Sailors also wore earrings for fascinating reasons. Sailors who had their ear pierced were said to be well traveled. They wore gold earrings as a price to have a decent burial if they died away from home, at sea. Talk about fashion with a purpose!
Earrings have found a place on the fashion radar after the punk community embraced the trend of ear piercing. Piercing the ear has now become fairly common and accepted all over the world. In fact, the kinds of earrings available in the market are mind boggling! Stud earrings, hoop earrings, feathered earrings, jewelled earrings, spike earrings; dangling earrings are just a few of the many varieties that are available in your neighborhood mall.
The hottest new trend in earrings is the unilateral earring. It has become a sensation within a short period of time and has found appreciation with celebrities and common public alike. A unilateral earring will encompass your whole ear; it outlines the shape of the ear. The trend started off as a punk statement but it has been welcomed by many fashion magazines as a bold revolution in the accessory market.
Because the unilateral earring makes quite a loud statement, it is encouraged that it should not be paired with any other bold jewellery.  A number of interesting shapes have come up in this type. Natural and mythical shapes like snakes, dragons, leaves and angel wings are the most popular right now. Unilateral earrings have even found a fan following in men!
Unilateral earrings demand that you carry them with aplomb and chutzpah. They will give you the illusion of being an independent, rebellious and confident person. Although they might not go with every outfit, they are sure to jazz up the dullest attire.
A number of famous celebrities have sported this trend, making it a global sensation. You can find one that suits your taste and risk-readiness either online or in any high street shop. Feeling pricey? Why not buy a pair of unilateral in gold or better yet, ones that are bejeweled! You might be the show stopper of the next party you attend! These earrings are also available in sterling silver, brass and plastic.
2013, the year of snakes saw a big surge in unilateral earrings shaped like snakes. Unilateral earrings were spotted in many fashion shows with exciting yet daring clothing combinations. It is not necessary that your ear be pierced for you to wear unilateral earrings, you can also find them as clip-ons.
Unilateral earrings may not be everybody's cup of tea, but they have definitely carved a niche for themselves as the edgy and bold cousins of plain, boring earrings. How are you going to pair yours?