Stylish anklets take your looks to another level of desirability and allure. Summer is all about having fun and experimenting with looks and style. The 90's obsession with fashion anklets is now making an explicit comeback, and the diversity it offers in designs and materials is unmatchable. Many wardrobe styles have found a perfect synchronization with this influential accessory of the 90s and making the world fall in love with this fashion again.
Here are a few delicate anklet styles that are trending in 2017 and will let you rock your summer looks completely.
String Anklets:
String anklets are proving to be the first choice of for all young girls who love funky colors with a delicate finish. What makes this anklet the top choice for many is the ease of carrying it and the flair it offers. Any bright colored string with a few beads gives you an adorable anklet to complete your summer looks. Wear it with pumps, sandals or any shoes that leave your ankle bare and enjoy the summer time with your best looks.
Gold Heart Anklet:
Delicate gold chain with small hearts is another endearing option in anklets for ladies. It offers both a touch of class and adherence to trend, all at the same time. Gold chains with stars or crescents are also not a bad option. In short just chose a gold chain and optimize the minor hanging shapes according to your choice and let your wonderful anklet do the rest of the trick.
Anchor Anklet:
The best part of summer is the beach tour and barbecue nights. The anchor anklet illustrates the sea and beach, so it's a must have accessory in your wardrobe this summer. A small anchor hanging to gold or silver chain is nothing but splendid for your beach visits and night parties.
Charms Anklet:
A charm anklet is the simplest yet most popular anklet trend. It has a delicate chain of gold or silver with small charms that may be the moon, a star,an anchor,across or perhaps all of them in one. The minimalism of the anklet is remarkable, yet the bravura it adds to the personality is also eye catching and impossible to ignore. For a barbecue night or a shopping venture with your besties, this anklet is sure to dazzle anyone.  Wear them with your beautiful summer sandals.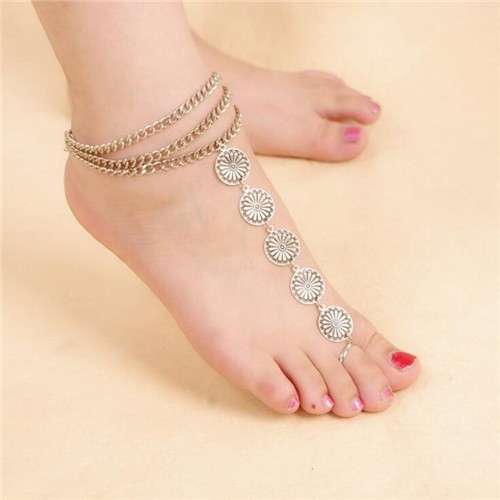 Shell Anklet:
It's another growing trend for the beach and ocean lovers. It has sea shells varying from 1-5 in numbers lining on a rubber cord or an alloy ring to offer a perfect finish. Wear this simple anklet to rock your look at the beach for small summer picnics and having a wonderful time with besties and family.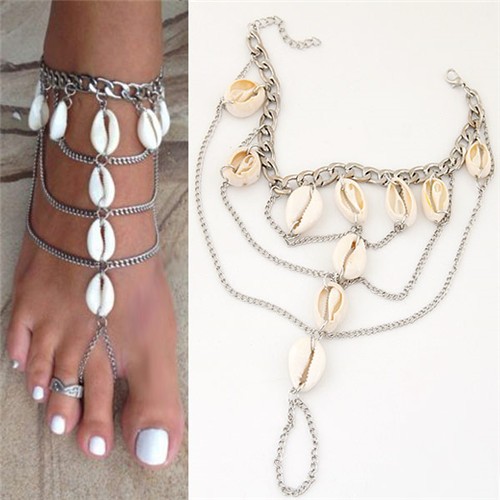 Zipper Anklets:
It is an anklet design for the daring girls. If you have a cowboy adventure zeal in you, then the zipper anklet is here to give your personality a unique depiction of fearlessness and eagerness for adventure. The half opened zip indicates as if the skin is zipped to the anklet. Wear it with brown sandals to highlight the beauty and uniqueness of the anklet. It looks best in the bronze color.
Anklets are simple yet very stylish accessories that can give your personality a whole new expression. They are so powerful a fashion accessory that they alone have the ability to tone up or down a dress.  Therefore, choose a fashion anklet carefully to rise to the occasion in style.