It has been around since the dawn of fashion. It can be understated or totally outrageous. It is something not everyone understands or would choose to wear. It is the costume jewelry that the Hollywood celebrities are making their own and they are so very simple.
What am I talking about?
A lace choker of course. That simple piece of what could looks like a piece ribbon wrapped tight around the neck that looks dazzling, sophisticated, stylish and smart or just about any look desired in one piece of costume jewelry.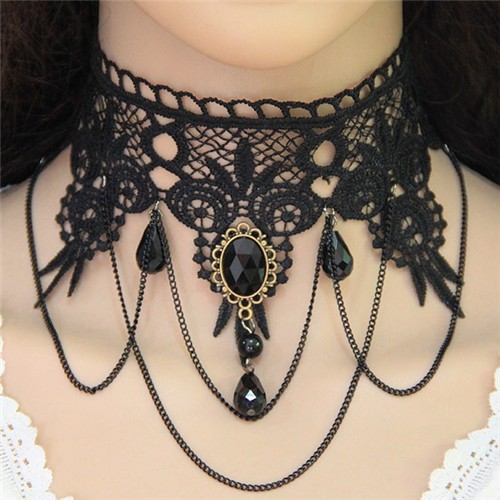 Just take a look on Google and you will find "1000+ ideas" on how to wear a lace choker, hundreds of style tips and numerous websites telling you that a lace choker is the "must have" accessory for every girl. Lace Chokers are not glittering, diamond encrusted necklaces but they turn more heads by being as simple as they are. The lace choker is a little last-minute touch that elevates any outfit from your chiffon Cinderella dress to a suit or even a shirt and a pair of jeans.
Lace Choker necklaces are statement makers, they are the exclamation mark of the fashion world adding the "wow" to anything once one knows how to wear one or simply even tries. Any color will do, red, green, blue or even something with a little glitter or shine. It doesn't need gem stones or a fancy patter, although certain prints can look totally amazing pushing sophistication to its absolute limit and there are some who just need to show off with a few carats of diamonds threaded into the material, often the plainer and dare one say even more boring the choker looks the greater the statement made and the louder the oohs and has spoken or at least whispered.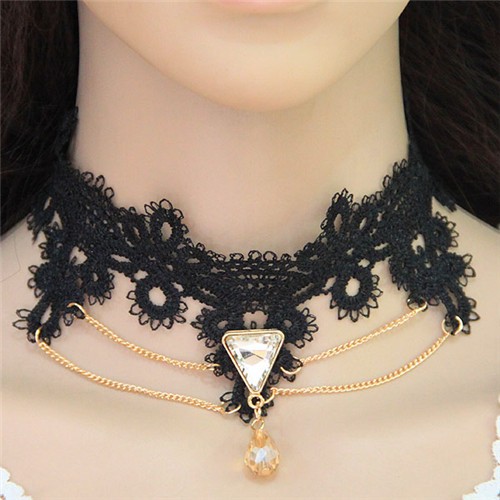 A lace choker may well be the least expensive item in your jewelry box but it can often be the one that turns a $50 outfit into one that looks a million. That same choker may be the item you once bought but have never dared to wear, you may just feel it isn't you, but I say give it a try because you only live once.
If you have nothing to wear, it is a fact and every classy lady knows this problem all you need is your lace choker. Ok, not just your lace choker but with this little bit of magic in a single piece of costume jewelry you have just woken up your wardrobe that can turn eyes away from shoes that don't quite match or turn the blouse you wore for the presentation into an entirely new item of clothing. A lace choker is magical, wear it and it changes not just an outfit but a person, it makes you shine like a star by just adding a little touch of class where it is needed most.
Lace Chokers are all rage, they have actually been around for a while but you just haven't noticed. Ever wondered why some people shine in an outfit and others just don't have it?  Look up, look just below the chin and you will see the secret, the secret that you have just been told about and it is called a Lace Choker!