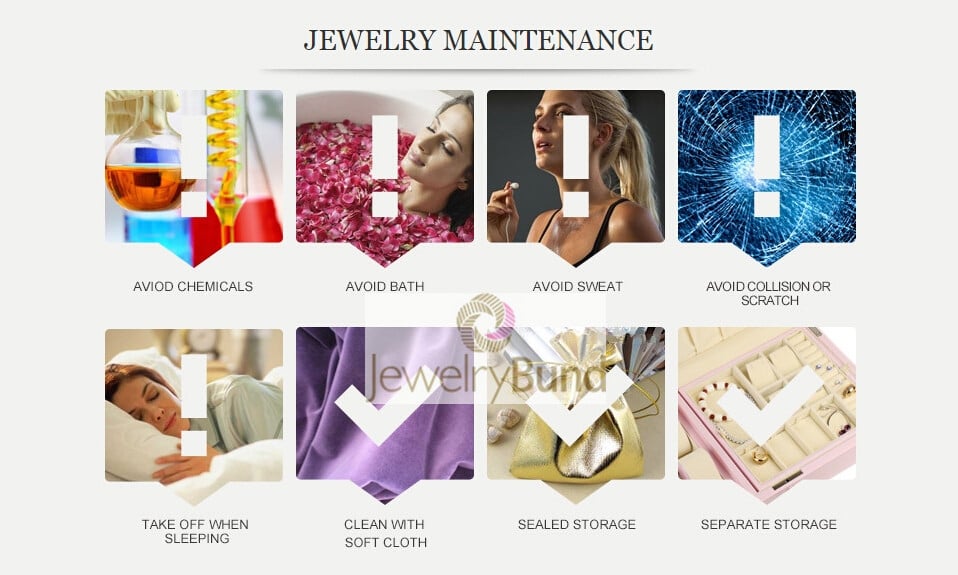 Jewelry has been known to man for ages now, thus making it an essential part of our daily lives, so much so that it is its absence that becomes most noticeable.
Like every other thing, jewelry has undergone a remarkable transformation over time in which it is no longer only made from gold and silver, but diamond, platinum and also with other color precious gems and stones.
Another major evolution is regarding usage. Jewelry has today become a major fashion accessory, for is it not hard to imagine your wrist without that signature watch or plain ears without those beautiful earrings?
From the most elaborate weddings and occasions to the simplest routine lives, men and women have both embraced jewelry as their cannot-do-without fashion accessory, thus making it all the more essential to ensure that your favorite piece of jewelry remains bright and shining as new.
Knowing the Don'ts
Here's a list of six precautions you MUST be putting to practice to maintain the beauty of your fine jewelry:
Avoid the Edges: You sure remember placing your jewelry by the edge of the sink hundreds of times and you don't know how easily it may fall off right into the drain. So, make sure to avoid the edges!
Keep Away From Chemicals: Harsh household chemicals can to serious harm to your jewelry, tarnishing their shine and luster.
Say No-No to Chlorine: It isn't the best idea to swim with your jewelry on, so DON'T.
Be Kind to the Gemstone: Never (and that means NEVER) hold your jewelry by the gemstone or know that you are reducing the life of your prized possession already.
Buckling Down to Some Cleaning
The secret to having your jewelry shine bright and last long is to buckle down to regular cleaning, so the texture never tarnishes in health. And what's better than home remedies?
Soak your gold in a bubbled detergent-hot water solution for fifteen minutes for the dirt to come out. Scrub gently with a toothbrush or scrubber and then wipe your piece of jewelry with a soft cloth.
Disclaimer: Know your jewelry well. For jewelry with glued-in gemstones, make sure not to wash it water or the gemstones tend to fall out. Wipe your ornament mildly with a wet cloth to remove accumulated dirt.
Resort to the best and the easiest home remedy to cleaning your jewels. Your toothpaste is sure to clean your trinkets well and quickly when other chemicals may not be at your disposal. It's simple and effective, and you can have our word!
Travel Tips
For regular travelers, make sure to have a travel pouch for your jewelry at your disposal. Clean it before storing your jewelry and make sure to devote those ten extra minutes to sorting but never have your jewelry entangled inside the box/pouch
Guard Your Gold
That pretty Rose gold of your Solitaire, or that shiny white gold wrist watch gets its color from alloys that are mixed into natural yellow gold which eventually wears off over time. By the frequency of your usage, ensure to have your gold re-plated (normally, once a year makes for a decent deal and hey, it can be done at affordable prices too!).
While the above mentioned are assured means of having the shimmer and brilliance of your favorite piece of jewelry intact, remember to always love your ornaments. Go that extra mile to keep your jewelry healthy and have them look as new as ever, and savor the compliments that follow like a king/queen!