Jewellery comes in various patterns and styles. Not every style is suitable for everybody, but everybody out there has one style that will suit them almost perfectly. The best way to find this out is to experiment with various patterns, especially those in handmade jewellery, to find out which one suits you the most.  So we will be discussing some of the popular jewelry patterns which will enhance one's appearance and quality.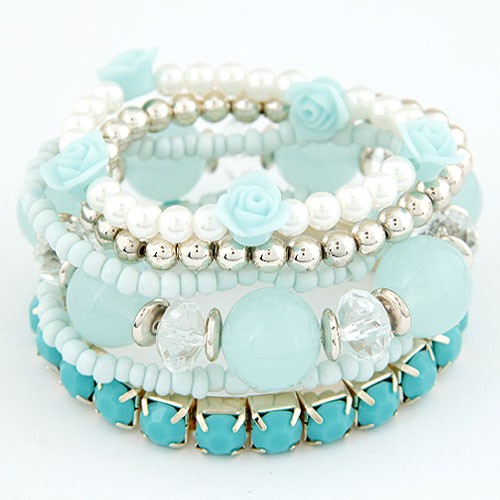 One simple to make but very popular jewellery pattern is the Wrap Bracelets patterns. These usually go with any casual clothing and are a hit during party season. It usually has a number of wires wrapped around in concentric circles around your arm with colorful beads in them. They play off very well with any popular summer clothing and can help add the trendy look to your entire ensemble. It also helps create a layered look while wearing only a single accessory and can easily be paired off with a nice set of earrings.
Wired Jewellery is also making a big come back. Copper wire is very malleable and can be made to bend easily, thereby creating beautiful patterns and pendants. Some of the best patterns of this year are wire patterns and because of their golden-brown colour, they can be made to go seamlessly with almost everything. You can also slide in beads or entwine threads in order to give the jewellery some color. A pair of matching earrings is easily made with such patterns and is very popular, especially among college students since they are also very cheap.
Chainmaille patterns are also making a comeback, especially as bracelets. Chainmaille basically copies the pattern found in French medieval soldiers' armour, hence the term 'chainmaille' (French for Chainmail). They form a very delicate pattern, especially in silver, and go very well with light summer wear. Another popular bracelet pattern like this one the Macramé Bracelets pattern which is basically threads intertwined with each other in a bigger bracelet and worn around the wrist. They can be very colorful and worn with almost anything while being trendy yet casual.
Beads patterns are some of the very best jewellery patterns out there. Beads can be arranged in various styles, either color wise or even haphazardly, to lend a certain charm to jewellery being worn. They're simple to wear and even simpler to make as they require only some beads (available in any market) along with some string. You can also stitch such patterns together to create a whole necklace which can be worn on formal or informal occasions.
Clay Jewellery patterns are still a new thing and still making their way, but it's quickly catching on. While many may think of Clay Jewellery as clunky and heavy or even too fragile, they are actually very beautiful and can be molded into fascinating patterns which go very well with traditional outfits. Not just traditional, with the right patterns, modern ones too!
These are six well known "in" patterns that can help transform your look and accentuate what you're wearing. Mix and match the patterns with your wise choice of dresses and soon you'll be turning heads.